Operating Compliance Management
Today's power and utility management may now be faced with meeting thousands of federal, regional, state, and municipal operating compliance requirements on a 24/7 basis. The impact of a single noncompliance event might range from a minor inconvenience to the potential of one million dollars per day for a violation of specific FERC/NERC electric reliability standards.
In this challenging environment we believe management's objective should be to develop a practical operations based compliance strategy identifying, assessing, and effectively responding to all known obligations and commitments. We have been successful in meeting this objective by basing our work on the widely recognized COSO-ERM structure.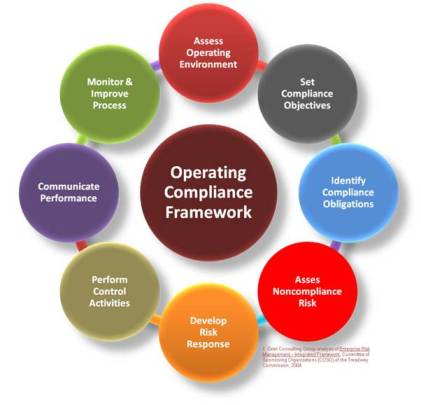 We work through each of the eight elements to help make certain management understands the basis for building an effective and efficient operations compliance framework.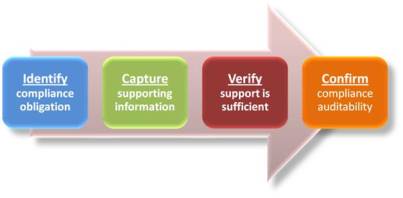 In addition, we follow the simple process shown above to help management build effective operations based compliance policies, procedures, and supporting technologies.
Examples of recent compliance management work include:
Corporate operational compliance readiness assessments – Providing technical and regulatory subject matter support to assess a company's ability to manage all federal, state and local compliance requirements.


NERC/ERO readiness – Providing on-site technical and regulatory subject matter support in assessing compliance readiness with NERC ERO Standards as well as technical support from developing ERO procedure governance to the development of a Microsoft SharePoint compliance framework.